Curriculum Overview
We are very proud of our rich and varied curriculum. Where possible, we try to create exciting and child focused topics to deliver the aims of the National Curriculum in a fun, inspiring and challenging way. Here is our current Long Term topic plan to give you and idea of what we currently cover. We are constantly varying and improving though so this probably won't stay current for long!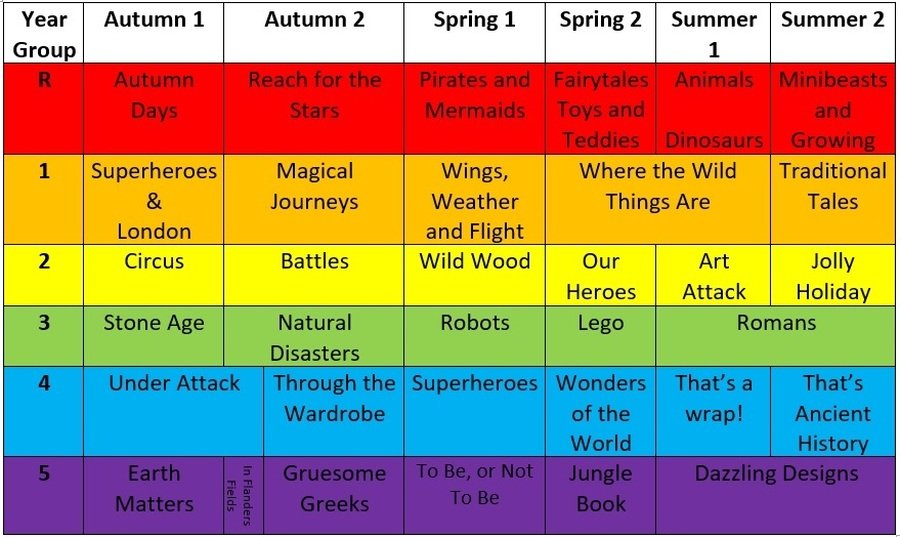 Reading
We follow the reading bands of the Oxford Reading Tree scheme but our shelves are stocked with a wide variety of books covering a huge range of genres, authors and interest. Reading is an integral part of our English curriculum and we are constantly looking for ways to develop our children's reading through our topic work.
Maths
We loosely follow the framework provided by Kangaroo Maths and White Rose to structure the timetable of the maths we teach each year. As we are lucky enough to have a huge pool of experienced and talented teachers, we then supplement these objectives with our own ideas for delivery. Every child and every class is different so it stands to reason that our teaching should be too.
Phonics
Phonics is such integral part of the Early Years. We follow the government's document "Letters and Sounds" and deliver this crucial area of the curriculum in Reception and beyond.
If you have any questions about our curriculum, please speak to the class teacher or one of our subject leads, listed below:
Mrs Megan Williams - Early Years, English and Phonics
Miss Rachel Hickey - Religious Education and Deputy Safeguarding Lead
Mrs Kaytie Holdstock - Computing, The Arts (Music, Art, Dance, Drama) and Assessment
Mrs Natalie Clelland - Mindfulness, Wellbeing and Physical Education
Mrs Caron Philpott - Maths
Miss Nicole Ioannides - SEND coordinator
Mrs Kirsty Day - Humanities and Eco Schools
Mrs Laura Cook - Science
Mrs Amy Daniels - Design and Technology, Eco Schools
Mr Philip Croke - Educational Visits Co. and Safeguarding Lead